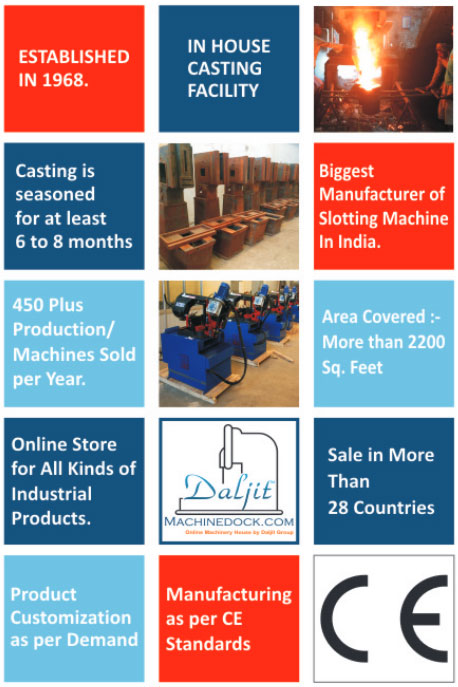 Daljit Machines has gained prosperity for years over the last 4 decades in manufacturing and exporting of machine tools. It has established itself to be exceptionally good in production, supplying and exporting of industrialized machine products. These include lathe machine, milling machine, drilling machine, shaper machine, grinder machine, hydraulic press, slotting machine, hacksaw machine, horizontal bandsaw, wood working machinery. And avail machine tools accessories, tool and cutter grinder, Cutting Tools, jaw chucks and other accessories. Daljit Machines is one of the leading industrial machinery manufacturer and supplier of all variety of machines in India.
Daljit products feature standardized quality, reliability, performance, durability from years of experience. Customers avail a wide range of impeccable machines of certain quality specifications. Daljit machines has grown in great size from its formally establishment back in 1968. In the current scenario, it has got name and fame for the best leading supplier of sophisticated machine tools in India. It's all because of the years of growth along with our 100% focus on our customers satisfaction by proving them the products of their needs and making them happy about buying from Daljit. We put our customers first that is how we uphold our reputation in the industry.
EXPERIENCE 
Daljit Machines, a family owned business having a great engineering background has listed to be the best performing unit. Daljit machines manufacturing heavy and light duty industrial machines backed with huge industry experience. Its name gets higher into the machines industry production to meet all industrial demands for cost effective superior quality machine tools.
QUALITY
Daljit Machines never compromises on quality at all and always maintain competitive pricing strategy. The available best products integrate all quality control products, made of accurate specifications and desired finishing. Then our devoted inspectors collaborate with suppliers to ensure Daljit machines consistently maintain high professional standards in its products.